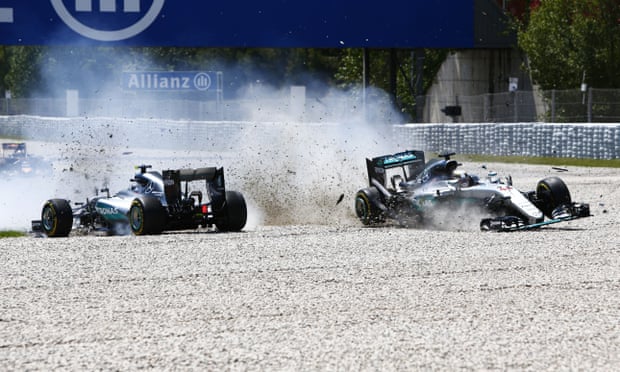 The big news before the race was Kvyat being sent down to Toro Rosso and Verstappen being promoted to Red Bull. But it had nothing to do with Kvyat hitting Vettel in back to back races, honest. Pfft. Whatever, Verstappen had a great qualifying run and Ricciardo had to step it up to make sure he started ahead of his new teammate.
And WOW did that race start with a bang–Hamilton and Rosberg went Senna and Prost on each other on the opening damn lap. To me, it looked like Nico pushed Hamilton wide but I'm sure there will be plenty of comments on it from the experts. Toto and Niki will have a lot of press conferences after today to explain that away. And is it just me or did it look like the safety crew intentionally kept the drivers away from each other when they were clearing everything from the crash?
That left the Red Bulls in the lead after the safety car came in with the Ferraris close behind, of all people, Carlos Sainz. Button and Alonso managed to get themselves up to 8th and 9th, respectively. It didn't take long for Vettel to get around Sainz, of course, because this is a major opportunity for him to steal a few more points.
Then more trouble for Kvyat who was ordered to give up 2 places because he'd passed the cars when the safety car is out. Bets on whether or not he'll have a ride next year? It strikes me as odd that he had so much time being competitive and relatively incident free, but the last 3 races has been chaos from him. Has he been hanging out with Maldonado and it's been rubbing off? Who knows.
Bummer to see Hulkenberg out on lap 24 or so with his car catching on fire. He's had quite the bad luck this season and now not even able to defend his win at Le Mans thanks to Bernie's sneaky scheduling an F1 race the same weekend. With the owner of Force India facing charges in India, the money situation can't be good at his team. He's a good driver and deserves more stability.
Alonso retired on lap 47 in a bad spot–just lost the engine. After glimmers of hope, another setback for McLaren.
But watching Raikkonen go after Verstappen was thrilling to watch. The kid wasn't intimidated and Kimi stayed within one second for so much of the race. And Vettel being chased down by Ricciardo. If either of those teams were Mercedes powered, it would have resulted in passes at some point. But they just all seemed to need a bit more power to get it down, so they all stayed in the same place, hoping for a mistake. While Vettel and Ricciardo got close on lap 59, they ended up staying in their original places.
Poor Ricciardo's tire let go on the next to last lap. I can see why he blamed the pit strategy for his loss today. Talk about a slap in the face with his brand new teammate, with no testing time, won the damn race and set the record for being the youngest F1 race winner ever… at 18. Do you feel like a lazy asshole now? Because I do. Max deserved to be so excited, the kid can drive. Glad Ricciardo could at least salvage his 4th place finish with a pit stop.
Will Ferrari be under fire after their President "demanded" a race win and they couldn't deliver with the gift of Mercedes taking each other out? Should be a lot to discuss between now and Monaco.