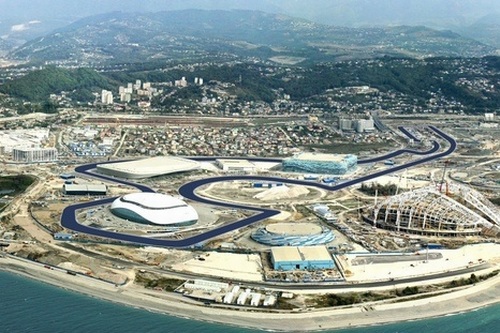 Crazy practice with Carlos Sainz smashing his car at 90 mph, being carried away to the hospital in a stretcher… all to come back and race the next day.
And then race day happened and there were two safety cars, brake failures, throttle pedal failures, and some desperate driving that ended more than one driver's race for the day. The opening lap with Hulkenberg's spin into Verstappen, Ericsson, and bringing out the first safety car.
On the last lap Bottas fought hard to get around Perez, Raikkonen slipped right by as well and then Kimi thought he'd have a go at Bottas, took the inside corner, and then bam! Bottas went into the wall, almost like a NASCAR, and Kimi limped his car around the track to finish a provisional 5th so Ferrari could still hold out on keeping Mercedes from mathematically clinching their constructor's championship. But that let Checo come back and finish on the podium for the first time in 6 years, also with Force India. They'll be celebrating all night for that one, and they should. Hamilton is now tied with Vettel for all time wins, one ahead of Senna, and Vettel took second.
For the teams:
Red Bull:
They claim they're going to pull out of Formula 1 completely next year if they don't get better engines. They sound like big babies because things haven't gone their way in two years. How many years has it been since Williams won a championship and they're still racing? Same for Ferrari. How about McLaren? For a team who's been in the sport less than 10 years to claim they'll pick up their toys and go play in another sand box because they aren't still winning is one of the most ridiculous things I've ever heard. It's really unfortunate Riccardo and Kvyat are driving for such a bitchy team owner. They're talented and deserve to know they have a place at the table next year. That said, this race Ricciardo had to retire because of suspension problems, so unfortunate when he was running in 4th. Both cars' engines seemed to handle the race fine.
Toro Rosso:
It's more of the same Red Bull nonsense, but Sainz had a great drive today. It was amazing he was even in the race, and even more amazing his team was able to rebuild his car. He started 20th but fought his way up into the points quickly. It's unfortunate he lost his brakes and spun ending his race.
Williams:
Bottas, poor Bottas. And then Massa had a terrible qualifying session the day before, starting in 15th. But he had a great fight on race day and managed to finish 4th.
Lotus:
Grojean's wreck was scary looking. But again, he got out of the car on his own, so if there's something to be said for the track's safety plan, it's a good one. They said it was because he went a little wide and picked up some of the tire clag. But it let go fast and then he was just along for the ride. 2nd safety car came  out for clean up. Maldonado managed to get through an entire race without hitting someone, too. I was surprised by that.
McLaren:
Button now confirmed for 2016, and finished the race… in the points. Alonso even finished in 10 but since the stewards gave him a 5 second time penalty after the race, he dropped to 11th. Still there's signs of life in the team yet. I just hope it's not to be a mid pack team next year before finally becoming competitive again in 2017. They're been bad since Hamilton's championship win in 2008… and they didn't get the constructor's because of the whole nasty business about cheating and Ron Dennis being banned as team principal for a while. Whoops.
Force India:
Another retirement for Hulkenberg on the opening lap. It looked like he just spun in traffic… maybe because his tires we a bit too cold? But Checo was the hero of the day. A great drive, and a great result for a team that works so hard.
Ferrari:
They were so close. But Kimi's move on Bottas got him penalized which took him out of 5th and that gave Mercedes the 3 points more than Ferrari that they needed to clinch the constructor's championship. It seemed a little desperate on Kimi's part, but he's not usually one for desperation. Aggressive? Yes. In the post race interviews he acted as though he genuinely thought he had enough room to get that inside line. Vettel, I always found incredibly annoying at Red Bull, but even I have to admit he's growing on me in Ferrari red. The team cohesion is fantastic, and he acts as though he's so happy to just be racing.
Mercedes:
It was really unfortunate for Rosberg to have throttle pedal issues early in the race. Hamilton was able to easily overtake him, and he tried to fight through it for a while, but ultimately he had to retire the car. I'm all for Hamilton winning the championship again, but I hope he wins it by beating the competition, not because of bad luck. It's exciting watching those two fight it out on the track. But Hamilton brought it home and kept a 8-12 second gap on the rest of the pack for most of the race. He eased up toward the end and "only" finished 5 seconds ahead.
Final Thoughts:
Pirelli has signed on to be back next year as the tire supplier. Congrats? I hope you don't get your whole maximum laps allowed on tires rule passed. I'm interested in racing, not really fast parade laps. Tires are part of the strategy and if everyone knows what the others are doing, it's no longer part of the race. Refueling's gone and unlikely to come back because of safety, so don't get in the way of something else.
Putin at the race: something about that dude scares me. Seeing him so prominently at the race I just wondered how many people he could beat up at once in a fight. I would avert my eyes and end everything I said to him with "sir" if I ever met him. Even Hamilton, after being handed a trophy by Putin, was quick to tell everyone to visit Sochi.
The US GP is in 2 weeks, and I get to go see it in person again. This will be our 4th year and we're very fortunate to be able to do it. Hamilton could wrap up his 3rd championship at the race so I'm very much looking forward to it.